I try to do some marker drawings here and there but as you may or may not know they usually take me FOREVER = 6 hours minimum, so I really have to figure out how to balance my time among cosplay, drawing and gaming. New Years' resolution--MUST.DRAW.MOAR! So I will. I have recently been very inspired by a game I just finished playing this week but I will write about that soon... because most likely I will post fan art, haha.
SO. Here's the first drawing of 2012.
Stunna-K
did the concept and line art, I just colored it. We went back and forth on the color for probably an hour and somehow we settled on yellow even though I don't really use yellow, ever?? I think it turned out alright for being completely cracked out post-ALA and finishing this at 4am while listening to him play Dead Space 2 the whole time.
You can watch the short video of us drawing/coloring below.
For the background I wanted to draw something really crazy but it was 4am and I wanted to sleep so I decided to bust out the
Copic
airbrush system! Could not use my actual compressor because that shit is loud and it was, again, 4am. I actually had this wiremesh on my desk leftover from a cosplay and thought it'd be cool to create a hexagonal, smokey effect in the background--we decided on a "smokey" background but our initial idea would take me at least 2 hours to render. I am pleased with the result but wish I had another air can to create more smoke.
All Copic Sketch markers on 14x17 marker paper. The previous armored core we created was on smaller paper (letter size) and I actually prefer drawing on larger sheets for some reason. Canvas claustrophobia? I feel cramped when I only have a limited area to draw on I guess. Hopefully on our next picture we will stick the armored core into a fantastical background.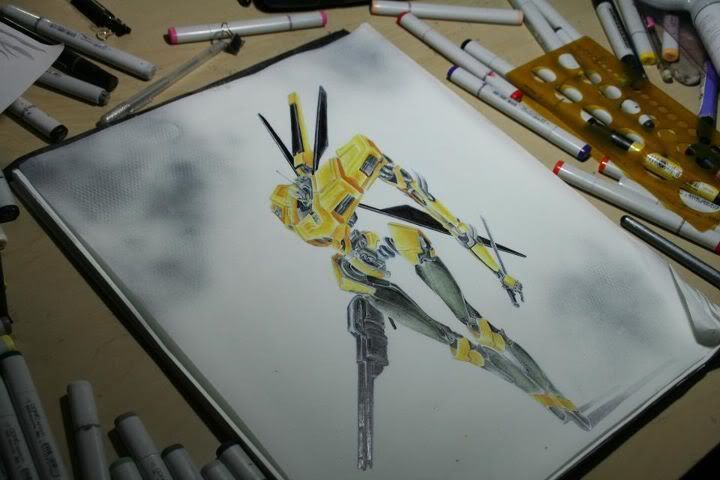 Background modified on Photoshop. Click image to view high-res.