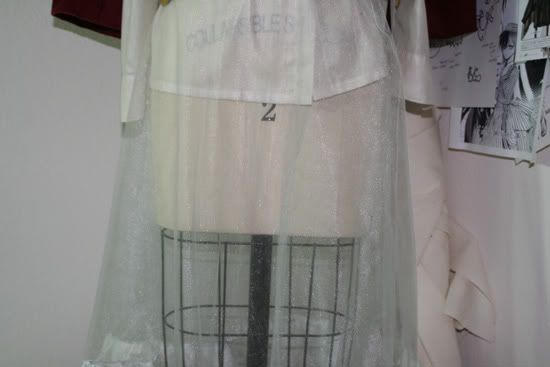 I thought the skirt should be 3 layers, a petticoat underneath, and 2 skirts worn on top of the petticoat. I bought close to 25 yards of nylon tulle for my
Bjork swan dress
costume 3 years ago so I'm pretty much stocked up on tulle for the rest of my life. I used 2 layers of tulle and I cut the skirt in a half-circle shape to create a bit of volume when worn. Added a 4" ruffle to the bottom of this "petticoat" using the same self fabric (linen broadcloth) as the other 2 layers of the skirt. Yes, this was a bitch to gather, gRRRRR!!!


The 2nd layer of the skirt was cut from linen broadcloth as well. I decided to use linen broadcloth based on the rendering looking a bit textured and rough. I wanted the skirt to look well-made but slightly unkempt, if that makes any sense at all. I kept the wrinkles in the fabric. I bought 6 yards of grosgrain ribbon and sewed 2 rows near the hem. Yes, this also took me FOREVER. I had to press the shit out of the ribbon after it was sewn because it bubbled slightly due to the curved hem I cut.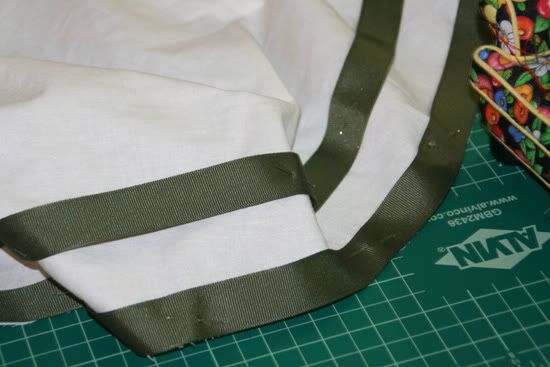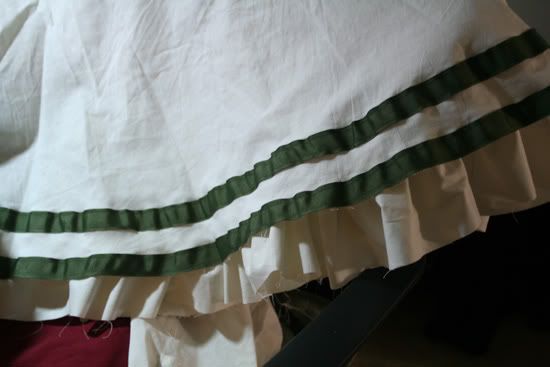 (not ironed yet)
The
top layer
of the skirt is also linen broadcloth. I have never bought this many buttons for a project in my life. I was very lucky to find buttons to match my jacket's color EXACTLY, and have the outer lip as I was thinking. I also got lucky enough to find the exact type/color of velvet trim for the pockets. The trim on the top layer is cut from the same corduroy as my jacket.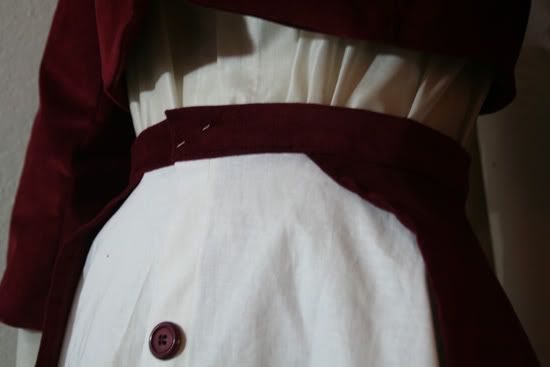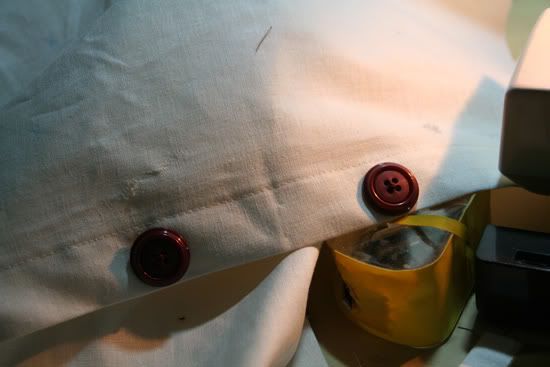 The "cape" part of the skirt is sewn into the same waistband as the top layer of the skirt. I used a snap at the center front of the waistband. There was a ridiculous amount of hand sewing on this project.
I purposely left all the hems unfinished because I just didn't want the skirt to look too "clean", I wanted it to be a bit battle-worn--hell, there are holes at the front of the skirt which I embraced.