Here is the jacket. I sewed it using the corduroy I bought 2 weeks ago, and will also be using it for trim on the skirt and the skirt overlay. I didn't realize the pattern would be this difficult. (I draft all my own patterns because I'm too lazy to buy a pattern and modify it >_>) I had to sew 2 samples to make sure the jacket would fit properly. So here we are, 2 samples and 4 hours of pattern drafting later. I didn't want the jacket to be bulky I didn't add lining. I just used a bias binding to finish all the edges--every single seam with the exception of the armhole seams is finished with bias binding. I used a total of 8 yards! Yeesh. BIAS BINDING, COME AT ME.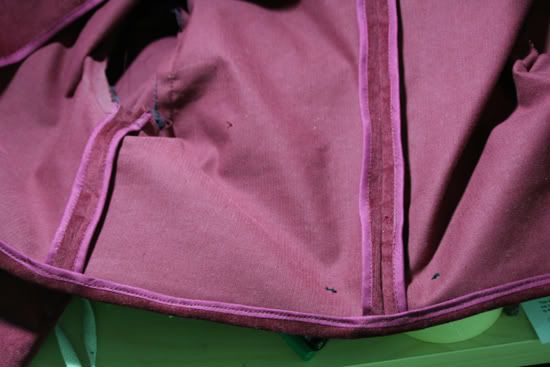 You can't really tell based on the photo on the dressform but the sleeves are slightly flared.
I used 2 darts at the center front for a more tapered fit because the jacket isn't snug but it isn't completely boxy either.
I also stitched along the collar edge because it helps the collar to stay flat, and this detail is visible on the dress rendering.
Following the reference photos, 2 large black buttons at the center back...