I guess it was kind of inevitable that I made another Munny because I really have to practice my sculpting skills, and I saw that nobody has made a Mordecai Munny yet. Obviously I had to do something about this. I'm also addicted to making these because I love deformed toys. ANDD the best part, I always use leftover sculpey and materials so I really only spend $10 on the blank mini Munny. Win win win.
**Note: I am still currently working on Bloodwing so maybe the post title is misleading but there will be a bird in the very near future, ha..*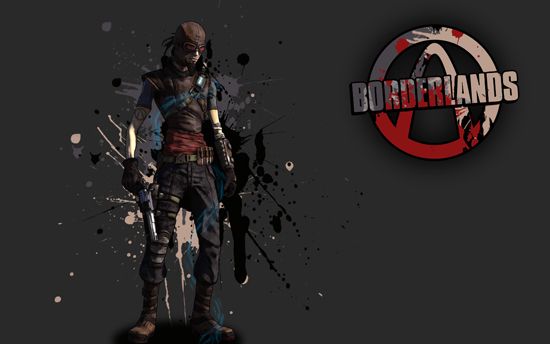 I started with a blank mini Munny (4"), same as my Bastion Kid...
Here was my sketch--
Because Mordecai's outfit is a lot more detailed than the Bastion Kid's, I wanted to sort out my ideas on paper first, and figure out what to omit, what to emphasize...
For Mordecai's leather mask I went back and forth between using actual leather and a layer of sculpey... and ended up just using sculpey so I could practice rendering leather. You can't see too well in the photos prior to painting the Munny, but I added cracked leather details with a sheet of crinkled aluminum foil. I then used floss (yes, floss for your teeth) to create the "seam" down the center front of the mask. I omitted the goggles because I would add them on after I painted the mask. I created some rough details in his beard, and added a little piece of sculpey to create a nose.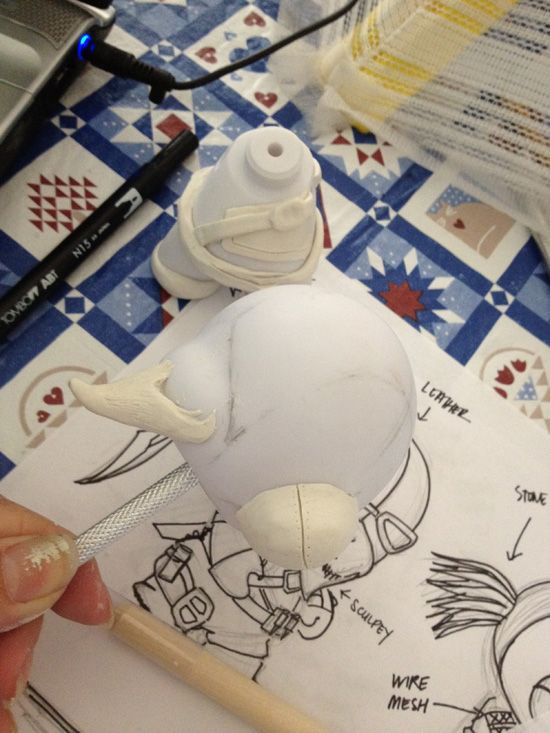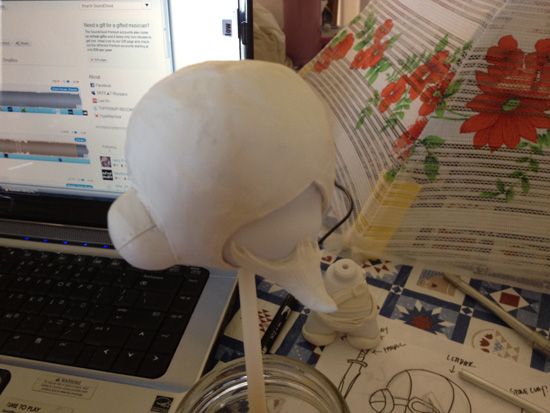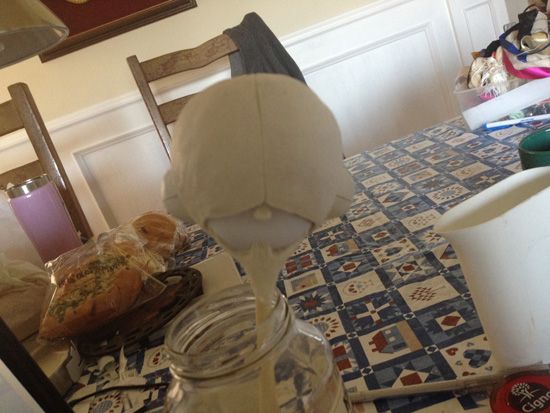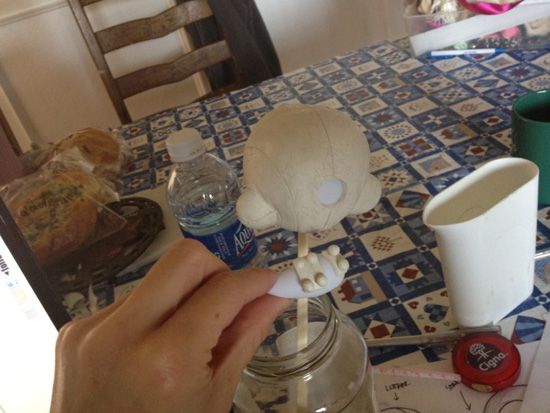 As you can see I had to condense and remove a lot of the details on his clothing because... well, the Munny body is so out of proportion compared to an actual human body. I decided to make the sniper rifle shown in the promo art (there are just... way too many guns to choose from in this game and I wanted this to look ridiculously huge) and used Wonderflex again for the base. I used bamboo skewers for the barrels. You can buy a package of bamboo skewers for $1 and use them for any art project. They're surprisingly helpful to keep around... I layered scraps of wonderflex for the details on the rifle. I painted this black and weathered it a little with some silver, brown and a dark silver paint.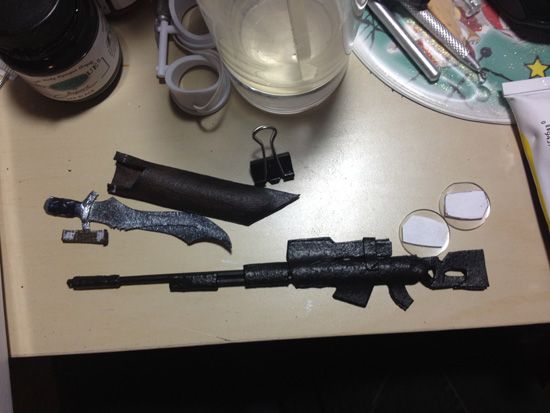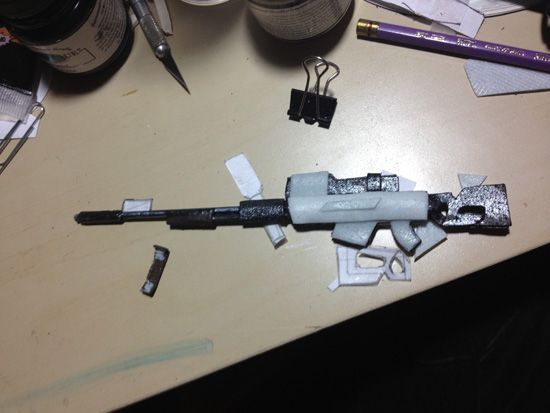 I also had to make Mordecai's melee weapon he carries around on his back. Since I love giving myself a headache, I decided to make the sheath "functional"--you can actually pull the sword out and have the Munny hold the sword. I made the sheath out of Wonderflex, as well as the sword. All painted w/ acrylic. I added some details to the hilt of the sword w/ stone clay. The sheath was then glued to the figure's back.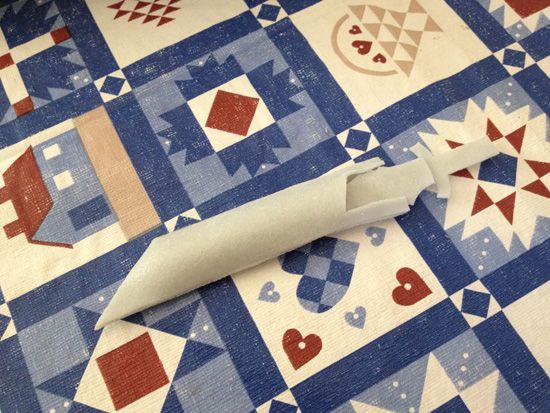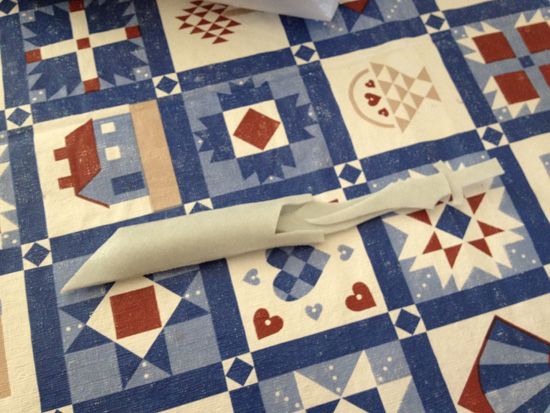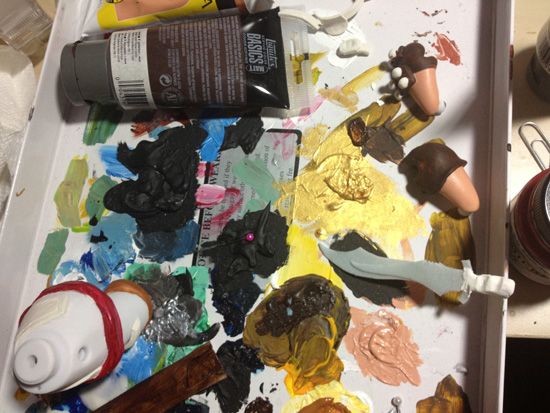 Finally for the painting I researched a technique for rendering leather, which is similar to my technique of creating brushed gold/bronze finishes on sculpts. I started with my lightest tone (this tan color) and used a makeup sponge to apply the darker tones. I used a damp brush to wipe off excess paint. I kept adding my darker brown tones while leaving areas to let the lighter tones peek through. I used 3 different shades of brown, I used a reddish brown, a grey-brown and a medium-toned warm brown. The dreadlocks ponytail was made w/ stone clay.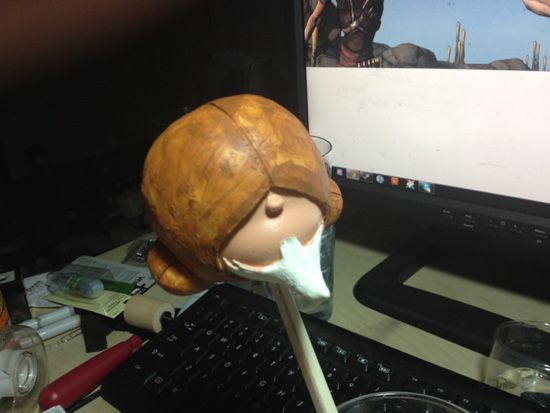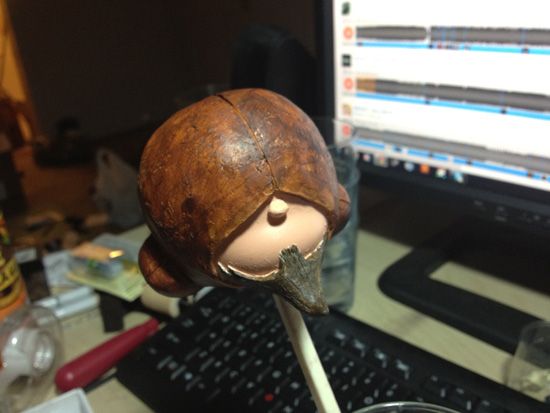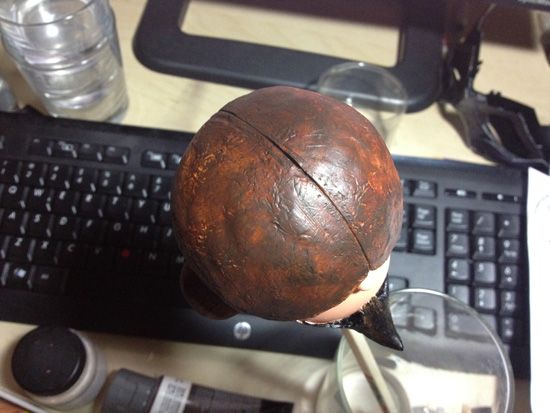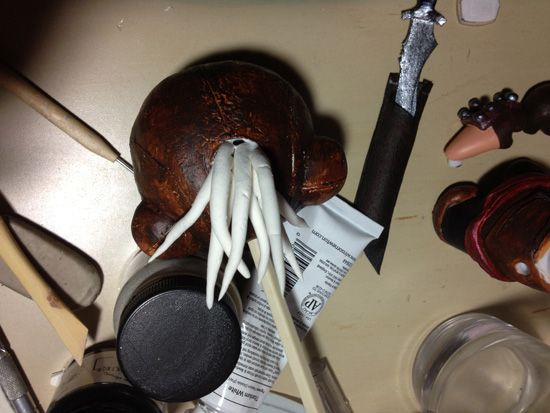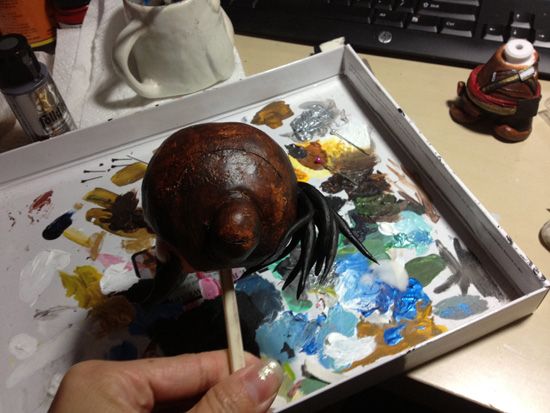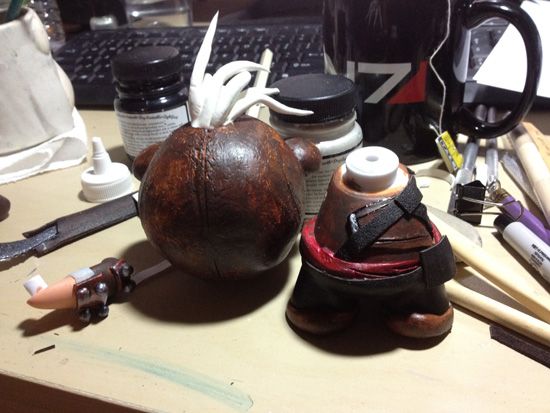 For his body I had initially sculpted the "harness" but it was too thick and when I put his head back onto the body, the pieces broke off :( So I just cut a tiny piece of leather for less bulk.
I sculpted the goggles last, as I mentioned above, because I didn't want to paint "around them". I had an unused Munny accessory that I took the acrylic pieces from, and filed the edges into the shape I wanted. I painted the back sides of the goggles w/ nail polish because I thought acrylic paint would look too flat. The rims were done with stone clay.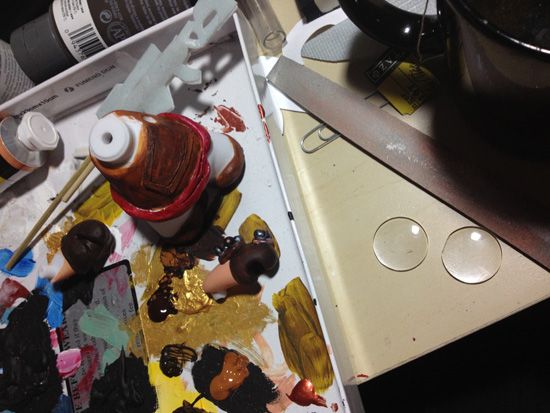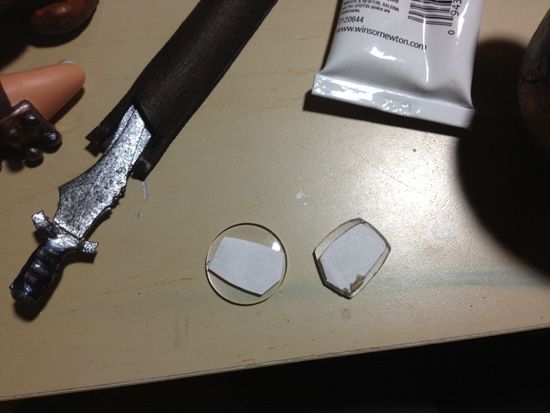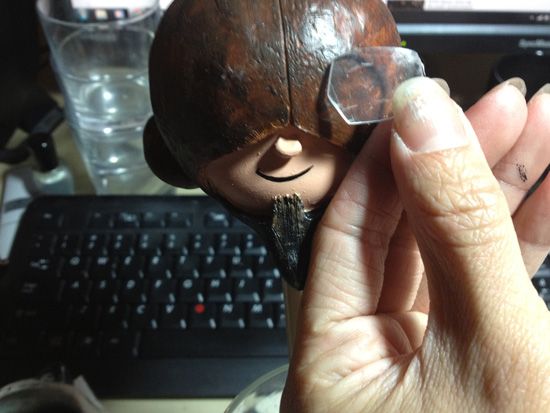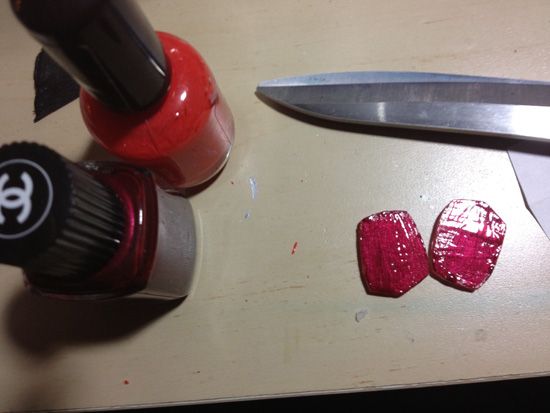 For the belt with the daggers I used needles wrapped in stone clay.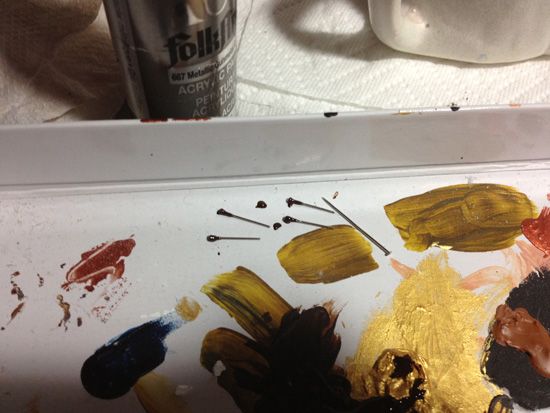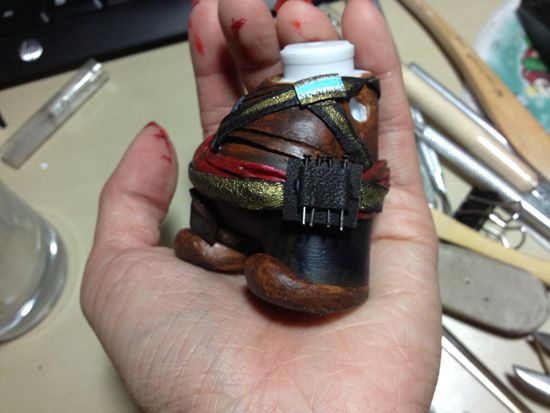 I painted the rest of the harness details onto the leather pieces.
The holster and his knee guard were made w/ sculpey; they were pulled off from the original harness I sculpted after I realized it was too thick.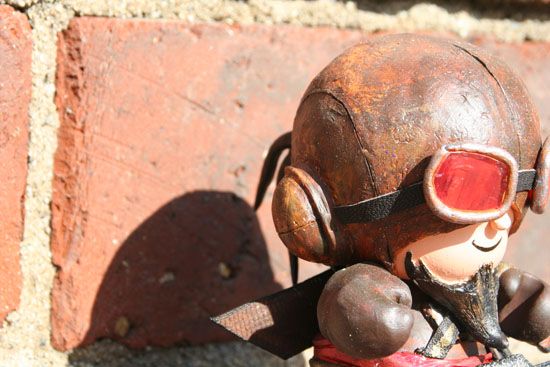 You can view the larger image on my deviantArt page :D
I worked on this on/off for about 3 days, just after work and on the weekend. As of the time I am writing this post, I realized that I am a few pageviews short of 50,000 all-time pageviews. Holy crap, thank you so so much for reading about my...... hobbies :D