I won't go into too much detail into this cosplay because I made it in 2 days, YIKES. But I thought that I'd have time to make something for
ALA (Anime Los Angeles)
in addition to my
Kyoko
outfit so I decided WHY NOT. The hardest part of this cosplay was styling the wig. Usually I don't like to work on "easy" cosplays because I like a good challenge, but I just love this character way too much. It's difficult for me to choose a favorite female character in "Gintama", but I think Kagura definitely delivers the most laughs, and she is one tough cookie. Also kind of brainless but she's a kid. She also likes to eat rice all day so that is something I can easily accomplish. Cosplays you can eat in are quite good. It's also fun for me to have an easier cosplay to wear at a convention because sometimes I don't want to worry about a prop or my outfit being damaged if it's delicate or slightly ... unwieldy. I also don't run into that many
Kagura
cosplayers at conventions these days and it makes me kinda sad because she really is such a great, memorable character and I wonder how a Kagura cosplayer would act at a convention--would she be walking around with a piece of sukonbu in her mouth while picking her nose? If so, I would applaud and cry otaku tears.
Before I get into how I made this cosplay, I want to share that I got the opportunity to wear this cosplay on
Crunchyroll's Live Show
along with my friends
Kakyokuhime
,
Imari
and
Vivi
.
Vampy
interviewed us during the cosplay segment and it was so much outrageous --and at times-- awkward fun. I usually don't make anime costumes either, but how can I say no to a character who picks her nose half the time!? Awesome. So I don't really have any work in progress photos this time, just our backstage photos showcasing the costume! I'll probably end up wearing this cosplay sometime when I feel like giving less fucks than usual.
She has a couple outfits that are fairly basic/standard China girl wear, but I decided to go with her regular outfit because I wanted to be very comfortable and not worry about fit for once.
I started with a cotton/poly-blended stretch fabric--I thought cotton would wrinkle too easily so wanted some polyester blended into it to help the fabric stay smooth when worn throughout the day. I didn't make the bias binding this time because I didn't need to. The pants are made from the same fabric, the pattern I knocked off from a pair of my sweatpants.
The top actually has a faux closure at the top--it only opens to allow my head to fit through.
So that's about it for the outfit. Simple stuff!
Yes I am wearing blue contacts!
with Vivi :D (as the AC Paradise mascot) I LOOK LIKE A KID. GYUHHHH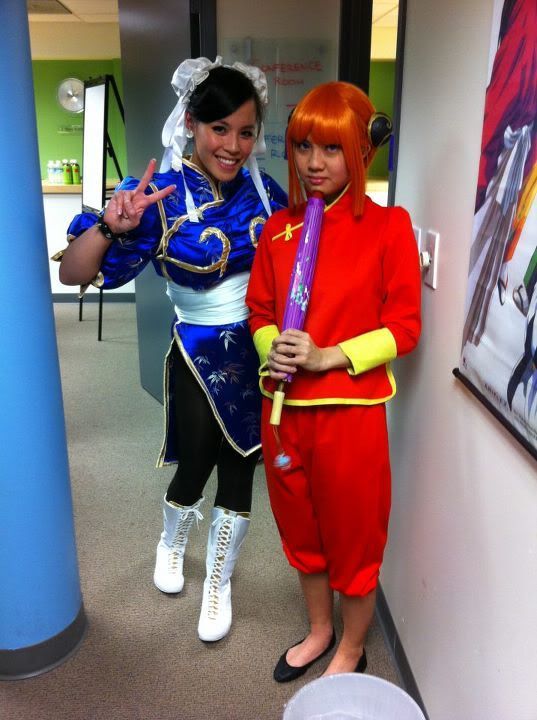 with Kakyokuhime as Chun Li!!
For the hair pins, I started w/ styrofoam balls and cut them in half. I painted them over with layers and layers of gesso (I kid you not there are about 20 layers of gesso, I started this first because I knew this process would take a while--it SERIOUSLY TOOK FOREVER but so worth it....) to make sure the surface was smooth. I sanded the surface a little with a very fine grit sandpaper because after so many layers of gesso the paint got a little globby.
This was then painted black. I ran out of time so I had to paint the designs :( I really wanted to cut out craft foam and form them with heat but perhaps when I have more time I will do so.
I made the tassels from fringe that I sewed together. There was a lot of work put into the wig, which I am writing a separate tutorial for -- it'll basically cover creating a back parting using
Epic Cosplay
's extensions (15").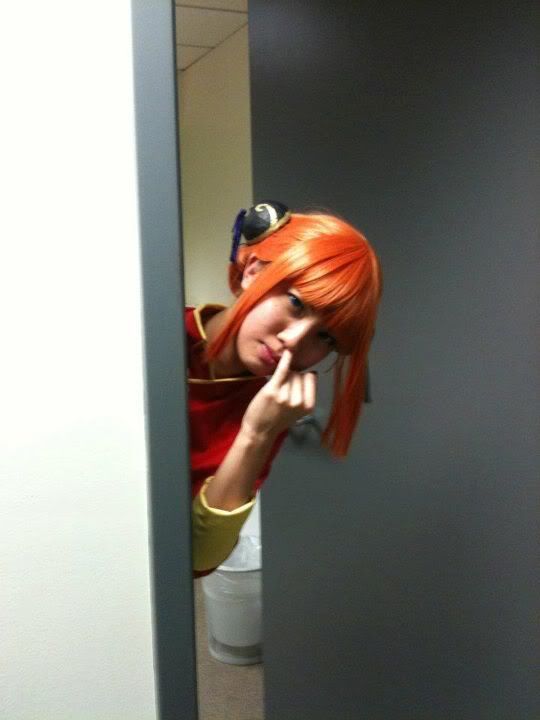 Again, thank you Shun for the photos!!