Rzephillda Grena Berlinette

, aka "Zephie" is from the not-so-popular game "Magna Carta 2" from Softmax. All cred in these characters from the game stem mainly from Hyung-Tae Kim's character illustrations. I'm not the type to cosplay as a character I know nothing about, and I was fortunate that my friend

Ken

gave me the game since he knew I was planning to cosplay as Zephie.


After playing the game, I realized something: Zephie sucks. Her attack strength is low and her attack range isn't as far either. She's good for healing your other characters. My favorite character in the game is actually
Crocell
, a fire wizard, who is usually my leader in the pack and the one I take the best care of. I debated for a while whether to make the Crocell costume or Zephie costume... but after discussing with close friends and realizing that this would be the costume I plan on entering into Anime Expo's Masquerade contest, Zephie's costume was technically more challenging. After all, I do enjoy torturing myself.
If you've been following my
Xianghua costume process
, you can tell that it took me on-and-off, about 2-1/2 months, and ### hours.
Anime Expo
is the first week of July, leaving me with 7 weeks only to finish Zephie.
Through all the trials and errors I experienced through the
Lady GaGa outfit
and Xianghua costume, I've gained significant knowledge on the appropriate materials and techniques to complete a costume of this degree. However, I'm sure I'll be pulling my hair out at 3AM trying to bind something or paint something...
My first task would be to draft the pattern, which seemed a bit daunting to me initially since I would be using a combination of knit and woven fabrics. If you noticed on my tumblr, I was already picking my brain in March on the fabrics to use for Zephie.
I tried to break the entire costume down at the first stage...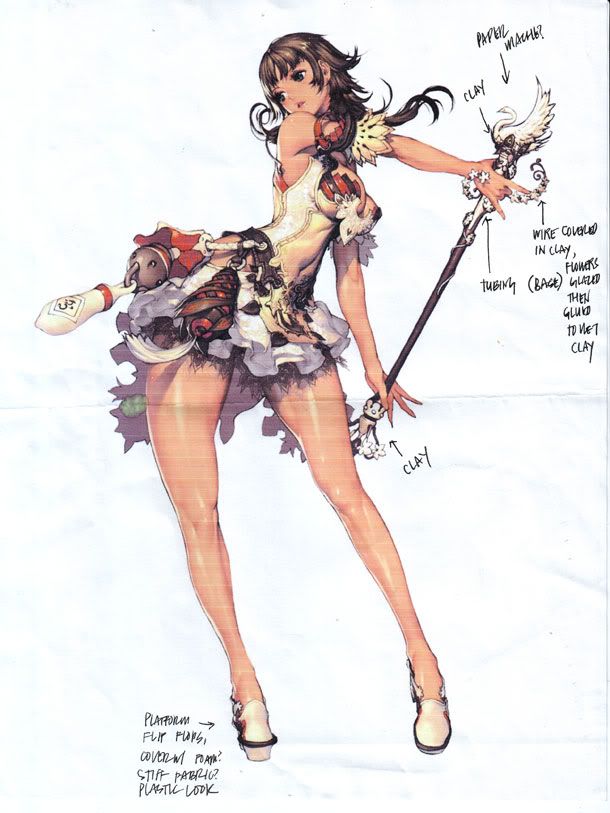 above: Hyung-Tae Kim's original sketch, with my notes