As I previously had featured a Japanese rock musician (
Miyavi
) in March, noting his extremely unique and quirky style, there is no end to the selection of interesting outfits worn by Japanese musicians (in pop or rock). But while their clothing choices may pique my interest, their music may not always warrant a second listen for me.
In the case of rock band
UVERworld
(the site is in English!), I first fell deeply in love with TAKUYA's voice (hey--the guy can rap, sing and beatbox), when I heard the second opening theme to the anime "Bleach". If you ever get the chance to noraebang (Korean karaoke) with me, you'll quickly learn that I know this song by heart. My friend
Rick
later sent me one of their albums, and I became a crazy UVERworld fangirl.
Image via fanpop.com
It wasn't until I came upon their live performance from this year's
ONTAMA Carnival
show that I realized their vocalist rocks quite the wicked street style:

Plaid shirt + deep V + fur tail + waxed skinny jeans + shearling-lined boots + single fingerless glove + blonde tips = normally, that would never work.


Furry sweater coat with a tank.

In the most recent issue of
Arena37c
(a popular Japanese rock magazine), he's wearing a ruffled bomber, zipped vest and very interesting pants...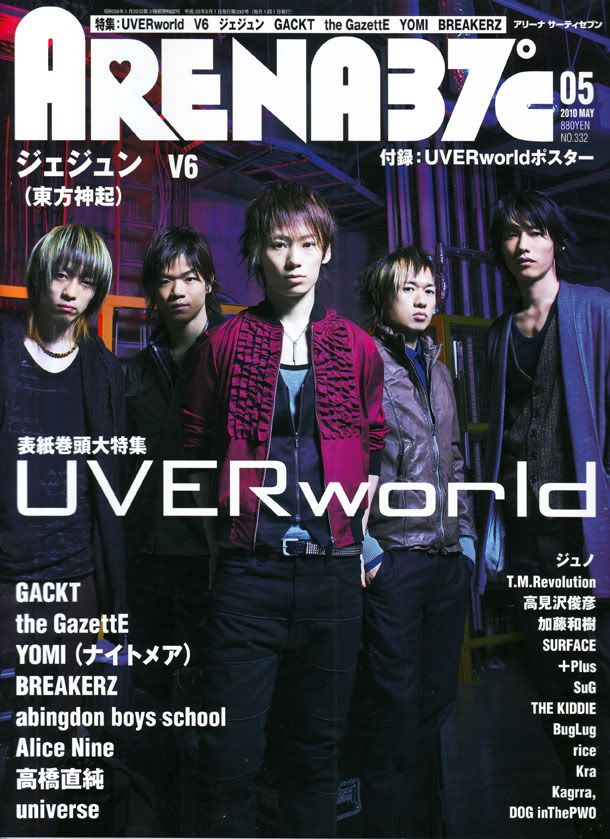 Scanned by me
Patchwork denim!! I'm not sure if they work, post-70's, on ANYONE,
but this doesn't bother me at all. Image via fanpop.com
Here's their debut single, "
D-tecnolife
", which is one of my favorite songs, ever...
And I'd like to mention that their latest video, "GOLD", was the
1st video to be released in
3D
in Japan. Unfortunately the video was removed from Youtube recently... too bad, because TAKUYA rocks some crazy gold fringed pants in the vid!