If you've been following me on
twitter
, you probably read that I tweet about "
FMA
" a lot. Any anime geek would immediately know I'm talking about "
Fullmetal Alchemist
". But I don't think a lot of my readers are anime geeks, so I'll explain in one sentence:
Fullmetal Alchemist is the best manga I have ever read in my life!
I finally started watching the first series (only loosely based on the manga), and became hooked. Then I watched the new series (which just came out last year, more stringent on being loyal to
Hiromu Arakawa's
manga) "
Fullmetal Alchemist: Brotherhood
", and fell in love for the 3rd time.
The story is unlike any other--dealing with the idea of alchemy, two brothers and the power of a "God". After watching the first episode, I commented "Oh my god, how cuuuuuute!!! A huge piece of armor with the voice of a 10-year-old boy!!!" I quickly discovered it was not that cute, this seemingly dark and profound story. There is a perfect balance of comic relief that keeps me gigging though.
The main character,
Edward Elric
, has an arm and leg made of automail (metal prosthetics), due to unfortunate circumstances. Upon seeing this, I realized it was similar to other media I've seen with characters using prosthetic limbs, or being part cyborg. FMA is different though because most media we see this type of technology is some sort of post-apocalyptic, cyberpunk environment. FMA is set in a world parallel to ours, shortly after the
Industrial Revolution
, in which civil wars across the country allowed for the prosthetics business to boom.
Sculpted metal parts aren't uncommon in the fashion scene either, albeit those parts aren't as practical as Edward's arm.
Although...if you were to break these parts while engaging in some sort of dangerous activity, you probably wouldn't have a cute blonde girl hurl a wrench at you.
Barret Wallace from

FFVII


image via dothack.free.fr

I can't leave out the

Dior

couture show from Fall 2006
detail images via style.com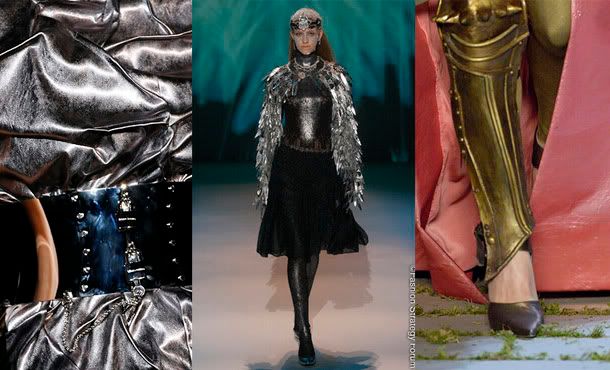 Detail from

Dolce & Gabbana

Fall 2007,

Dior

Couture Fall 2006,

Somarta

Fall 2008


I couldn't find the credited designer for this arm piece;


Dazed&Confused

magazine (one of my favorite editorials of all time)
first image via trendhunter.com
Yuima Nakazato

, the one and only

Thierry Mugler


images via yuimanakazato.com, alifeofstyle.com
Lady GaGa's "Paparazzi" video
showcases a load of
Thierry
, and his metal-sculpted parts.
I only included partial-cyborgs / images of metal parts, not entire robot, bionic, metal, or concealed suits. Hence you do not see Robocop, the Bionic Woman, Ghost in the Shell, Battlestar Galactica, Astroboy, Appleseed, Casshern (and so forth) in this post...
If you're interested in viewing
Fullmetal Alchemist: Brotherhood
, subbed episodes are free online on
hulu.com.