New York Fashion Week has concluded.
I did not go.
But, I did spend a few hours on style.com and catching up by reading a few friends' blogs!
Generally I don't remember too many details after looking at every single show, though it all eventually comes back to me and resonates with me later, I can't help but think that bondage and goth will forever spot the runways.
I'd like to point out one particular collection--
Altuzarra
's.
A few have praised
Altuzarra
's collection, featuring "Frankenstein" stitches and numerous buckles, similar to a straitjacket. I couldn't help but think of Altuzarra's collection echoing the influences of
The Matrix
,
Edward Scissorhands
and
Death Note
.
You may argue that the same might be said of
Gareth Pugh
's look, then, because he consistently shows a goth influence throughout his collections, but I think Pugh takes his designs a couple notches beyond his obvious influences, and his clothes are more theatrical and costume-like than Altuzarra's.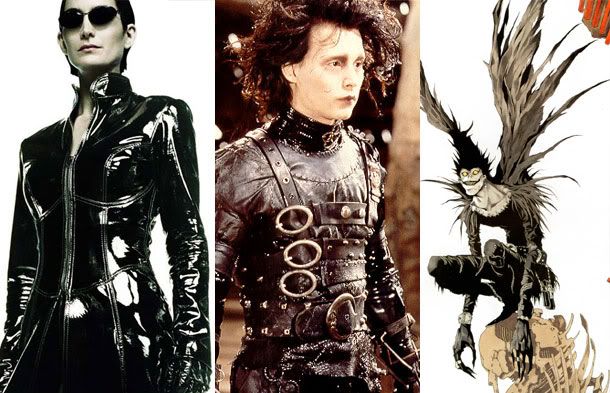 L-R:

Carrie-Anne Moss in the Matrix

,


Johnny Depp

in Edward Scissorhands,

Ryuk

from

Death Note


(Matrix image via fanpop.com, Edward image via ithaca.edu, Death Note image via deathgod.org)
L-R: "Frankenstein" stitching a la

Michelle Pfeiffer's Catwoman

,
on

Altuzarra's F/W 2010 runway

, "staples" on the

Viktor & Rolf F/W 2008 runway


(Catwoman image via premiere.com, runway details via elle.com)
Expensive Halloween costumes, anyone?