I've been meaning to this post for a very, very long time... but I decided to wait for the appropriate time to write, as
I JUST wrote about video games
. Though this post has nary to do with video games, the subject matter is of the same culture.
Before I had been sucked into the world of fashion via haute couture (thanks,
John Galliano
...), I fed my need for beautiful, fantastical things with
Illustration Books
. More specifically speaking, these Illustration books accompanied popular manga (Japanese comics), and usually were compilations of promotional images or manga covers the artists used throughout the run of a particular manga.
One of the most popular artists to take over this idea was the collective group,
CLAMP
. I had grown up watching
Tonari no Totoro (My Neighbor Totoro)
,
Sailor Moon
,
Nausicaa Valley of the Wind
,
Hotaru no Haka (Grave of the Fireflies)
and
Meitantei Conan (Detective Conan)
, but it wasn't until I watched
Cardcaptor Sakura
in middle school that CLAMP pushed me to become a better artist.
After doing some digging around in my parents' house, I found old sketches I did, back in 2000 when I was first exposed to art markers. The ones I used then were
Prismacolor
markers; the ones I use now are
Copic
markers (made in Japan). Weird to think it was a mere 9 years ago that I started using these markers... I probably should have come a lot farther with my skill in them but I'd like to think I have progressed somewhat....
Left:

Character drawing from 2000;

Right:

Detail from last completed drawing from 2009
CLAMP visited
Anime Expo
2 years ago, here in Los Angeles, and I am still kicking myself for NOT being there. Perhaps this is what they mean by "full circle"--I grew up on all of this animation and art, fell out of it for a few years, and my obsession has been reignited and continues to breathe again.
These manga artists (all of whom are female) created so many beloved titles,
X/1999
,
Magic Knights Rayearth
,
CLAMP School Detectives
,
Chobits
,
Cardcaptor Sakura
,
Clover
,
xxxHolic
,
Tsubasa Reservoir Chronicle
,
RG Veda
....the list goes on and on...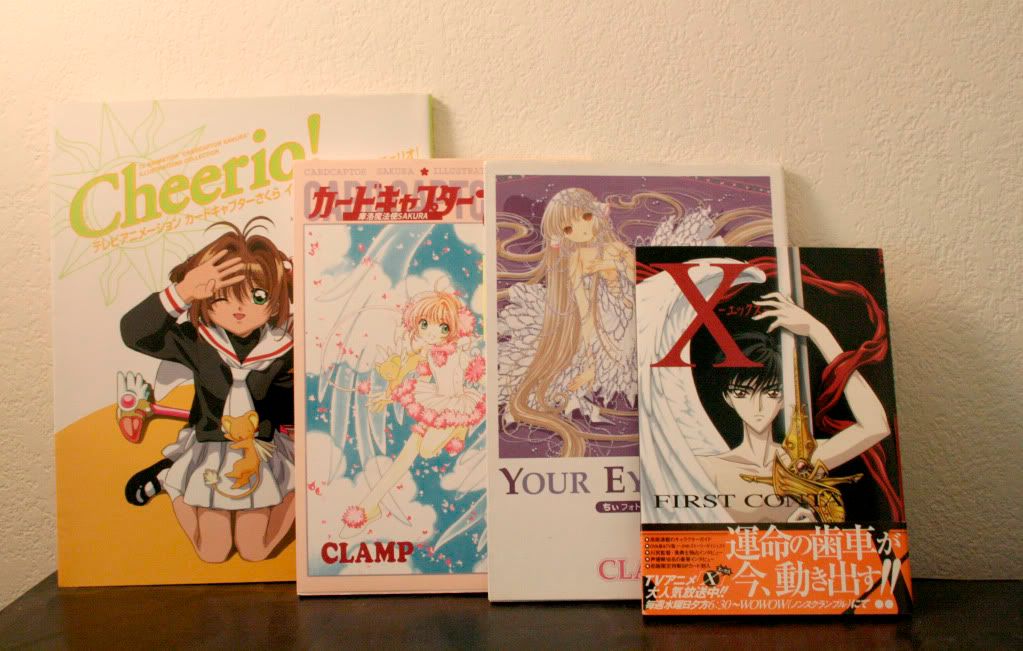 (pictures above: just a little bit of my manga/illustration book collection... it is its own shelf...)
There's a lot of "regular" anime/manga, without crazy outfits and such, but it's easy to see the similarities between these images and haute couture (I included
McQueen
in this even though he does not do couture). The series I used are all from CLAMP. I'm sure if you dug deeper into this subject you will find more similarities....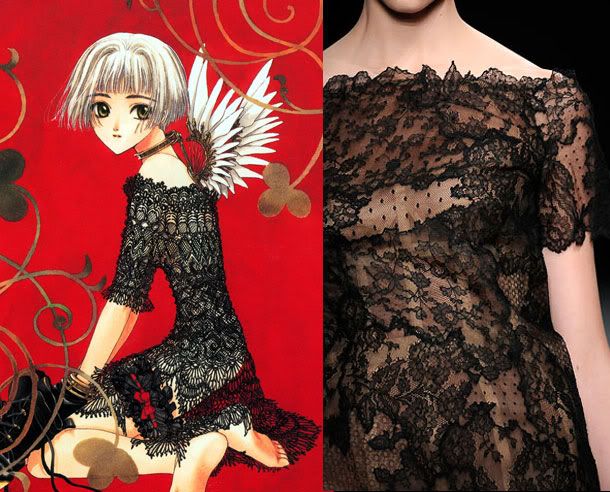 Left:
Clover;
Right:
Valentino Couture Fall 2009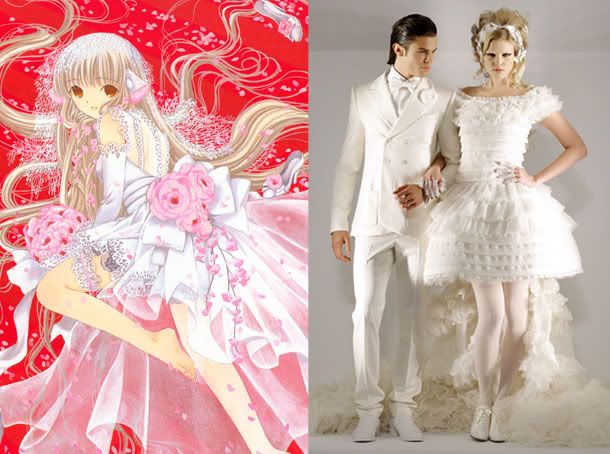 Left:

Chobits;

Right:

Chanel Couture Fall 2009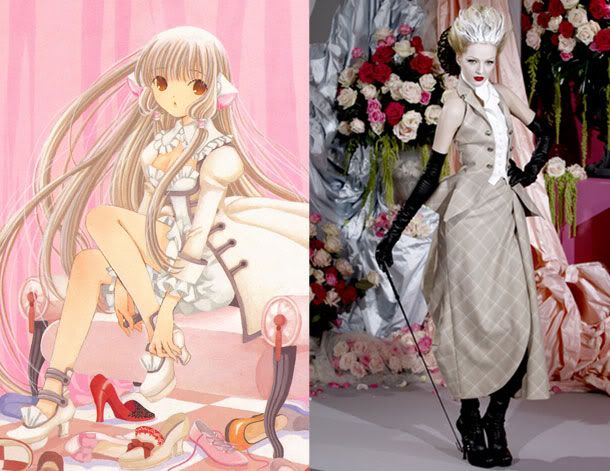 Left:

Chobits;

Right:

Christian Dior Couture Spring 2010
Left:

RG Veda;

Right:

Christian Dior Couture Fall 2006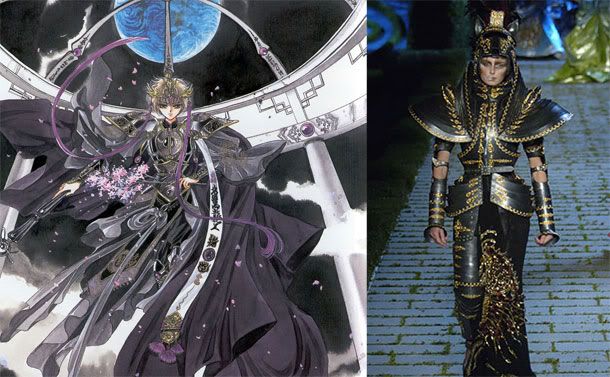 Left:

Soryuden;

Right:

Christian Dior Couture Fall 2006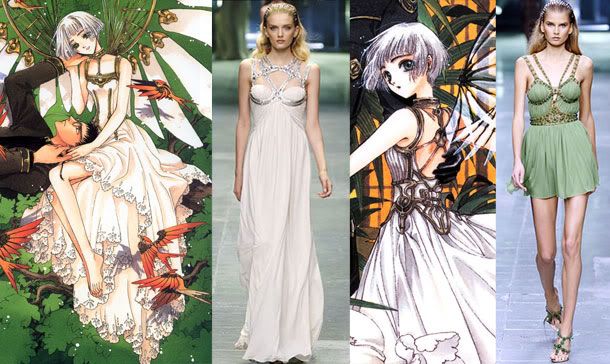 Left:

Clover;

Right:

Alexander McQueen Ready-to-Wear Spring 2006

And obviously I had to include this collection...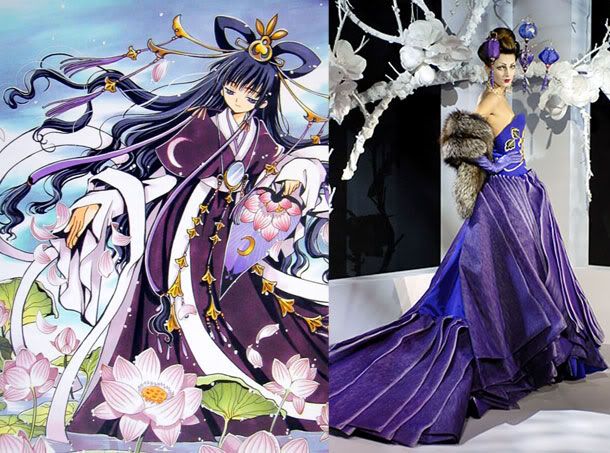 Left:

Tsubasa Reservoir Chronicle;

Right:

Christian Dior Couture Spring 2007

Left:

X/1999;

Right:

Christian Dior Couture Spring 2007
**all fashion images via style.com**
And this is where "cosplay" (costume play) makes its name.
Cosplay
is most famously done by fans or costume designers, who realize these 2D images....
Yaya Han
is actually one of my favorite cosplayers. She's actually a professional... PLEASE go to her site. Her costumes are unbelievable... I can't direct link any of the photos here, but some of them are NSFW so be aware....
The first time
I
actually cosplayed was in 2002, as Japanese pop star
Ayumi Hamasaki
on the cover of her album,
"I am..."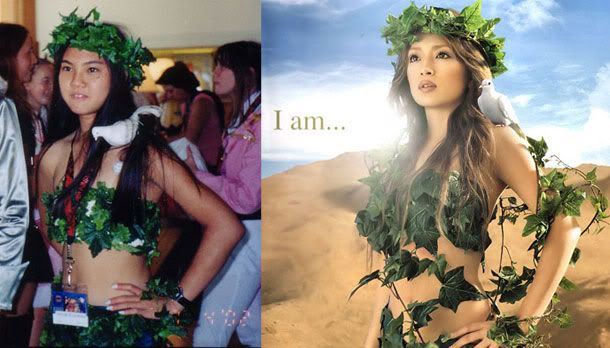 Now you know that funky, "scantily-clad" pictures of me will never work for blackmail. I might actually encourage you to pass it around if it's flattering. This actually is not a very flattering photo. Also, I was very young here so don't be a pedophile.
In 2004, I cosplayed as
Adora
from the video game
Magna Carta: Phantom Avalanche
. My mom helped me w/ this costume. (I'm on the far left)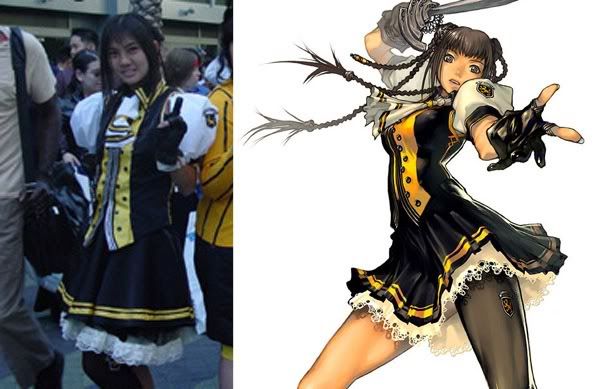 ...sorry for the shitty photos, I never did proper photoshoots for these :(
It's been 5 years since I last cosplayed, mainly because as I mentioned before, I felt like I "grew up" and abandoned most of my childhood. But with recent events and seeing new, exciting anime/manga once more, this year I am devoting to a ton-age of cosplay.
Besides the
Lady GaGa

costume
I have yet to finish, and a few random ready-to-wear I hope I have time to make this year, 2010 will be my year of cosplay, shameless self-promotion and attention-whoring at conventions in Southern California.
Somehow this post seems appropriately timed due to the overwhelming response from bloggers to Tanya Gold's "
Why I Hate Fashion
" article.
Dream Sequins' Deanne
wrote a
great retort
(I urge everyone to read it); I used to think fashion was materialistic and very superficial, but the way I looked at it after being exposed to haute couture (I don't own any), I made the connection that this is the style of art I was now interested in, whereas when I was a child, the manga-style was the style of art that captivated me. That's all it really is, it's just a form of art, and even if fashion (or whatever it is your heart is in) consumes your life, at the end of the day, it's just clothes, not people's lives.