Well of course I started working on another
Alice:Madness Returns
cosplay! I have a couple huge projects lined up for next year so I had to choose a costume that would be relatively "simple" to make, but not so simple that I would be unmotivated to work on it diligently. I love the colors from the "Oriental" dress from the game-- this Chapter was my 2nd favorite, I really enjoyed the side-scrolling levels and those samurai mosquito enemies, lol. The environment was just gorgeous, by the way, if I could cosplay as that entire Chapter I would, but that's... just not physically possible, no.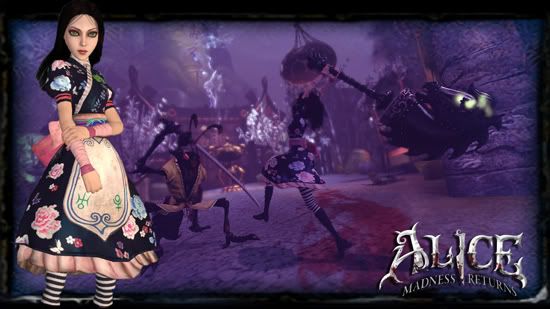 image from deviantart, via albertorayman
So this dress will suffice. I already knew which fabrics I wanted to use for this costume--a silk charmeuse for the exterior, because I read that the silk from this dress was supposedly made from the silk spun from the Caterpillar. Ok well I wasn't aware that he was a silk-spinning Caterpillar, what a strange world Alice lives in. But I couldn't very well use polyester charmeuse on such a gorgeous dress, so let me believe that the Caterpillar spun silk from his butt and this is the material that Alice wore in the Chapter.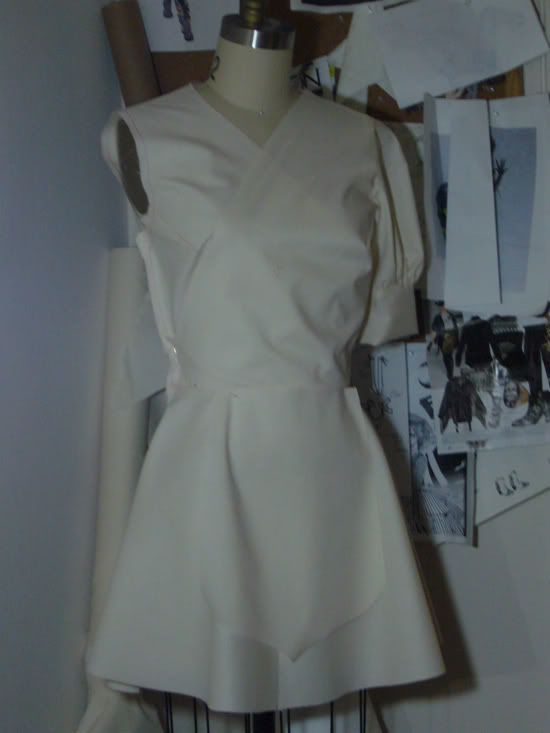 First sample that I always cut for fit reasons.
And of course the silk charmeuse I ended up having to paint.... using
Jacquard Lumiere
pants again. I think I should have used the
Neopaques
, which are not metallic, but this effect is not bad. I used weights while cutting out the silk pieces because my silk had a bit of stretch. The pin holes are too obvious as well, they don't disguise as well on silk since it is so delicate.
You need to use a lot of painter's tape so the silk does not shift around while you paint.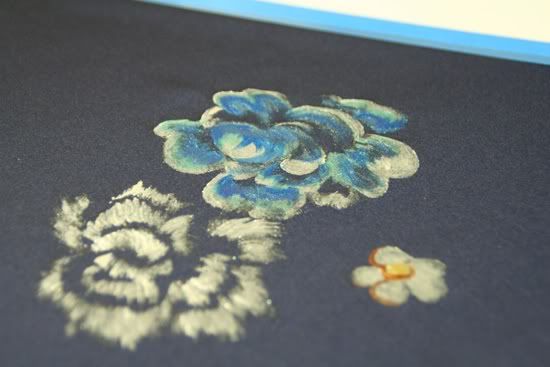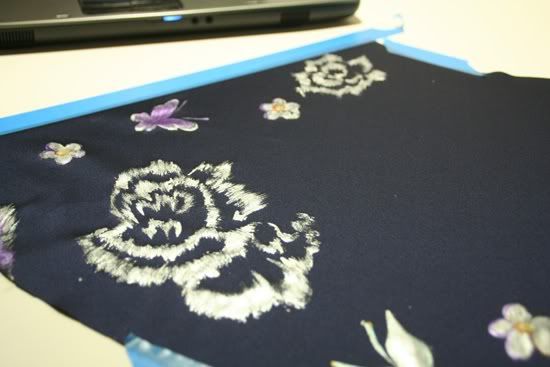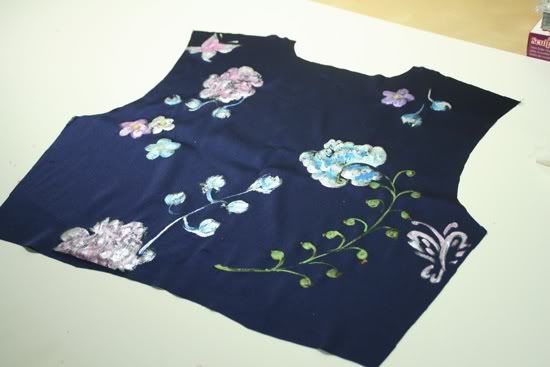 Had to paint everything...
For the "petticoat", I wanted to use organza. I thought it would look more ethereal if the fabric was slightly sheer, so I chose 2 different colors of organza for a more interesting effect. I actually used polyester organza because I needed something very stiff. Silk organza would be too pricey and it would have too much drape. I did not want drape.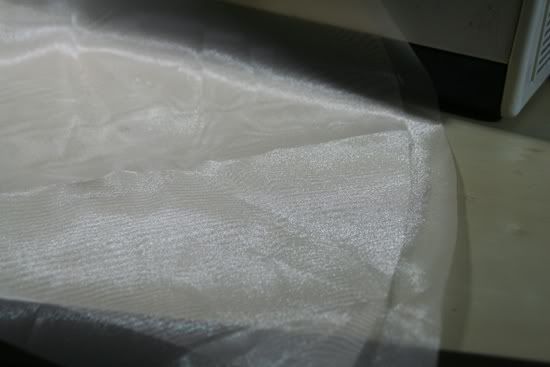 I used two colors for the effect I wanted, here's the yellow, looking kind of pink..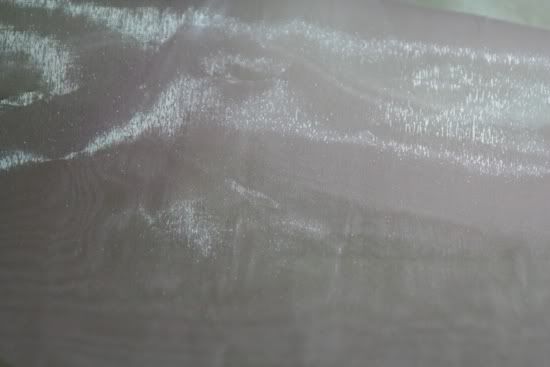 The pink organza...
The two put together, you can tell the yellow is on top, and it's kind of hard to see because of the wonky lighting in my apartment, but I'll take better pictures when the petticoat is finished and you can see how the color changes depending on where the light is hitting it/movement of the skirt.
For the obi I wanted to use a slightly more matte fabric that still had some kind of sheen and interesting texture to it, so I used silk dupioni again. The light pink is 100% silk, the bright pink is rayon/silk blended, the texture is smoother and it has better drape. I was very fortunate to find the colors I was looking for! This obi would also use a snap closure as per the previous costume, and I wanted it to keep its shape so I added a backing to the underside of this obi as well. At the front of the obi are 2 bright cords in blue and turquoise. I just bought white rattail to dye for this.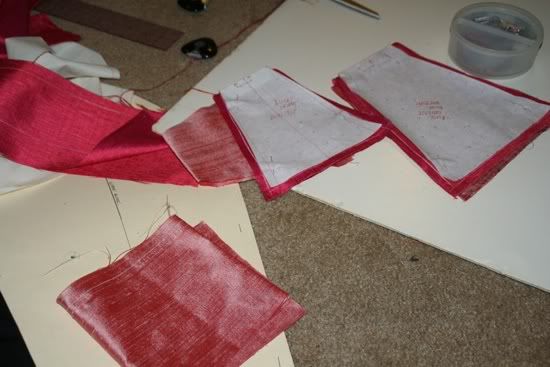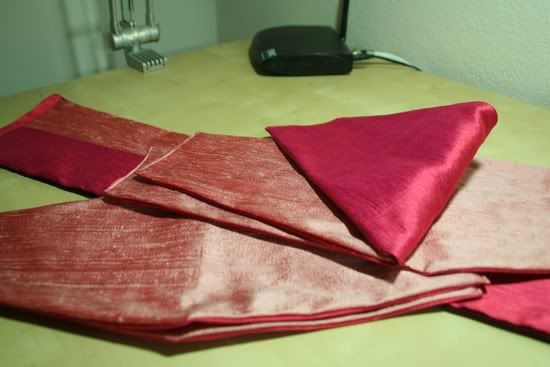 Double-faced because that's how the obi looks in the reference photos.
The apron, I decided to make it as a separate piece. Because I think of every costume I make as "actual clothing", I would assume that the apron is not attached to the dress, what if she wants to wear the dress without the apron and obi? To me, it looks more realistic when certain pieces of the costume are not all sewn together, but are separate/different components, as if this character was truly putting on each piece to create this outfit. Anyway, that's just what I think, so I made the apron its own piece with tie and everything. It closes with snaps as well so that it is not bulky at the back, underneath the obi.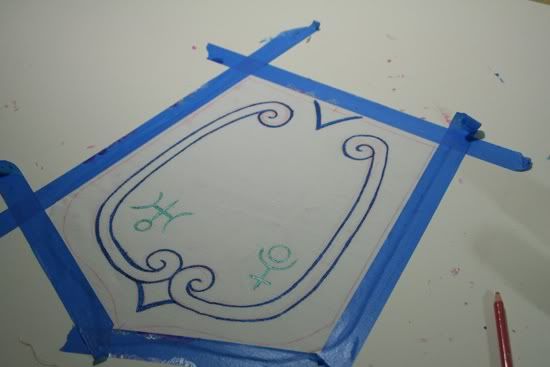 AND MORE PAINTING. I painted this 3x before I actually found it acceptable. You'll notice it's not perfectly symmetrical and my line weight is uneven. I was okay with this because the lines
aren't straight or even in the concept art.
The designs were all painted with my favorite Jacquard fabric paint, as always. These little jars aren't the cheapest paints ever but seriously if you're going to put time into a costume you're making you gotta use the best materials when you can. These jars are about $5-$6 each, and depending on how much paint you use, each jar can last you a while. Luckily for me I already had a turquoise leftover from my Xianghua costume last year! Hurray for obscure colors! I wanted the apron to have some kind of texture, so I used linen again; it doesn't look completely shiny or completely flat, I just thought it would look kinda cheap if I used a basic cotton fabric.
The sewing on this costume will not be extremely difficult but working with silk is kind of a bitch so it will most definitely be time-consuming. Not gonna lie, this costume has already cost me a little over $100 because I decided to use an entire family of silkworms.