Upon further dissection of my outfit, and countless snapshots of the "Character Creation" mode in the game, I realized....
1. WHAT THE FUCK IS THIS BACK PATTERN AND WHY DID I NOT PAY ATTENTION TO IT BEFORE?
2. I can clearly see the scallop detail now on the bustier, I will have to re-adjust it.
3. Should I just sew in a pair of underwear? I mean... the slit goes up to the waistband...
In my last post
I mentioned that all the important patterns were completed. This is usually the most tedious process, because I am building the foundation block on which I'm cutting the fabric and deciding the entire construction of the costume... very little room for error!
I went to
Michael Levine
during the weekend to scout out some possible fabrics.
The lining and chiffon (for that weird extra back piece) were a no-brainer, but the self fabric would be my headache. I wanted something with a floral pattern, and finding that sort of tie-dyed, almost iridescent fabric would be impossible. Also, it would probably be very expensive. I was VERY lucky, when I went to ML and found this
embroidered cotton sateen
...!
Scanning white fabric is weird, it shows up like this...
It was the best combination of shiny and matte, also, just thick enough to give the costume the correct amount of drape (in my opinion). It was also scalloped, but the pattern was not close to what I was using (shame). If you follow me on twitter, you know that I am always using
COPIC markers
for all my sketches and illustrations, and one of my favorite features of the COPIC marker system is their
AIRBRUSH device
. That's right. You can make any color apply as an airbrush. So convenient, neat and quiet. Below, I have tested it out on the fabric I purchased... (at $14/yd, it isn't THAT expensive, considering I don't really need that much...)
I used a mini air can for my testing, and chose some similar colors.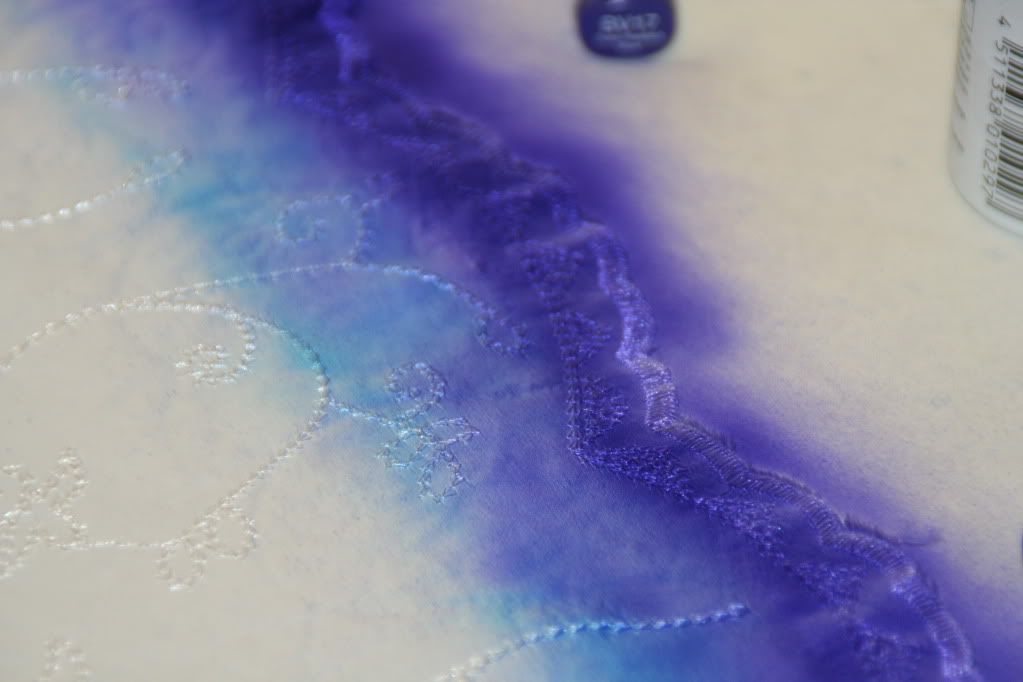 My tested airbrush swatch... (3 colors)
As for the intense back pattern, that will have to be painted very meticulously.